Bear Mountain Inn | New General Manager & Overcoming A Natural Disaster
September 13, 2023 | Uncategorized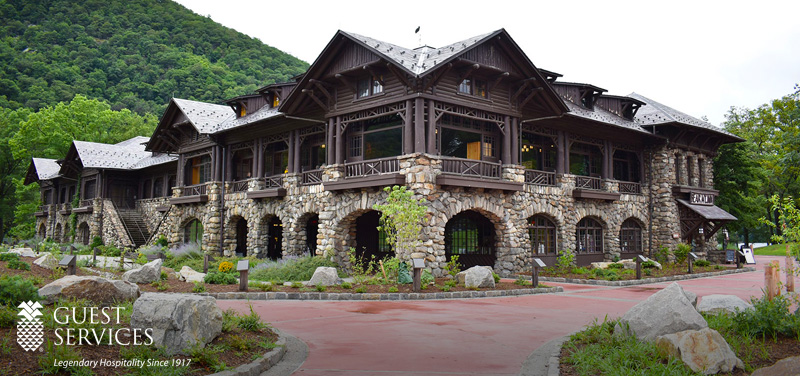 In early July, Bear Mountain State Park received as much as 9 inches of rain in less than 6 hours during a heavy rainstorm, an unprecedented amount that overwhelmed the local infrastructure. As a result of the storms, Bear Mountain State Park was closed down and, subsequently, all of Bear Mountain Inn's operations. (Read full press release)
Levon Bedrosian, the brand-new General Manager at Bear Mountain Inn, was hired just a few months before the storm hit. It became his first challenge in his new position.
Staying attentive to incoming communications and inquiries and disseminating information among leadership as well as clients is paramount in a crisis situation. Similar to our properties in Florida, which regularly face Hurricane challenges, Levon and his team did an outstanding job not only responding to the storm but also working to return the Inn to full operations.
Who is Levon Bedrosian?
Levon Bedrosian grew up near Watkins Glen, NY, where Guest Services also operates. He started his career in 1984 at Boston University in an entry-level role and quickly moved up to supervisory positions, where he developed his skills in food service management. Over the years, he took on roles in different companies, including Viacom and ABC/Disney, and also worked at Morgan Stanley in the financial sector. Later, he managed several departments of a Municipality as the Special Districts Facility Administrator, overseeing operations and several large construction projects. Eventually, his strong background in hospitality led him back to the industry, securing him the role at Bear Mountain Inn.
Team Highlights
"I am fortunate to have a great core management team along with many wonderful staff members. However, there are three people who have gone beyond their regular duties to support my new role here," says Levon.
"Sydney Mazzei, the Property Controller, has been a big support in so many ways. She has been supportive with providing a clear picture of the complexity of each of the departments/programs, the hurdles that have been overcome, and challenges that may arise in this diverse operation we have."
"William VanDunk, the Front Desk Manager, has been a key person of historical knowledge and has been helpful with my learning of the past and introduced me to many Park managers, staff, and key personnel."
"Margarito Gatica, the Concessions Manager, has one of the largest programs here at Bear Mountain Inn. He oversees Hikers Café, Stand 10 Concessions, Paddle Boat Rentals, Carousel operations, and a remote location at Lake Welch just over 10 miles away. He stays calm in many difficult situations. Always open to change and making improvements."
Thank you to the entire Bear Mountain Inn team for your hard work!