Hurricane Idalia's Impact
September 13, 2023 | Uncategorized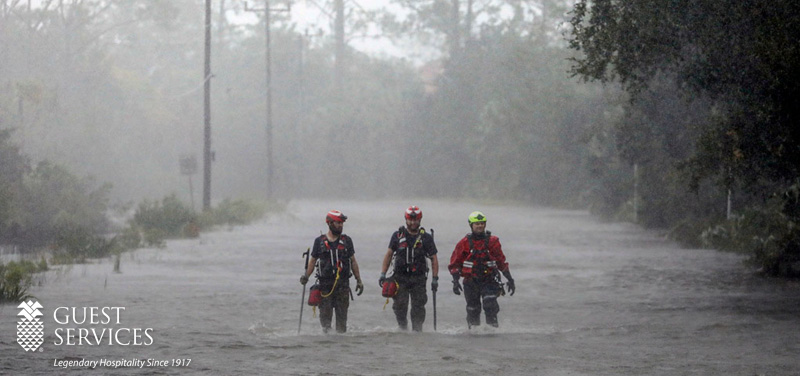 In late August, Hurricane Idalia wreaked havoc as it moved through Florida, bringing severe damages, including flooding, roof detachments, and power outages. Government officials reported that the hurricane could have had a much more devastating impact if it had hit a more populated area. Fortunately, many of Guest Servics' operated properties were unaffected and out of the Category 3 Hurricane's path.
Matt Smith, District Manager, Florida State Park Operations, met with the Insider team to give an update on the effect of the Hurricane.
What Properties Were Most Affected?
As Hurricane Idalia approached, the Guest Services teams at various properties initiated the hurricane preparedness plans, a strategy meticulously laid out to safeguard both infrastructure and the community. Teams worked to ensure vehicles were adequately fueled, generators were in optimal condition, and inventory of essential resources was readied. (Reach out to your managers to get the latest information about hurricane readiness and other natural disaster preparedness plans.)
The properties in the Crystal River and Homosassa areas were most notably impacted, with the offices at the Crystal River Park accumulating sediment deposits and the Homosassa area experiencing significant flooding. Despite the storm's challenges, the team responded quickly and efficiently, promptly initiating clean-up and restoration operations post-hurricane. The unity of the teams was instrumental in allowing Crystal River to resume operations in a timely manner and ensuring the well-being and continuity of the community and its services.
How Do We Prepare For Hurricanes?
"Staying prepared and maintaining constant communication is key to staying ahead in unexpected situations like the recent hurricane, which took an unusual route from the Caribbean, surprising many of us who typically monitor the eastern paths. Keeping communication open and keeping everyone up-to-date is really the key to staying ahead of the game," says Matt.
Thank you to all team members who play a critical role in hurricane response!