Food Management Magazine Ranks Guest Services, Inc. as the #1 Company To Watch in 2017
May 4, 2017 | News & Updates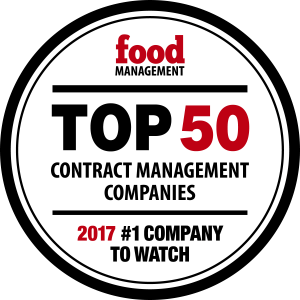 Guest Services experienced a surge in new business across its markets over the past year, highlighted by major contract wins with the National Park Service, Florida State Parks, Missouri State Parks, and a ski and golf resort in the Upper Midwest. Growth was augmented by the acquisition of Boston Outdoor Recreation, a marketer of non-motorized watersports services. The company also increased its market share in the senior living segment via new partnerships in Tennessee, Florida and the Pacific Northwest.
Those successes served to kick off centennial year celebrations throughout 2017 for the firm, which was founded in 1917.
In 2016, Guest Services introduced a series of national brands such as Starbucks, Five Guys, Dunkin Donuts, Subway, Moe's Southwest Grill and Red Mango in several of its accounts and added a series of new proprietary concepts. These include Local Roots (allergen-free, locally sourced, organic cuisine), Qi Bao (pho and stir-fry), Wedge (display and made-to-order sandwiches), Borders (self-serve regional and international cuisine), Pigs 'n Pickles (barbecue), Green Works (tossed-to-order salads), Cracking the Coconut (curries), Olives (pizza, calzones, strombolis and pasta), Tejas (Mexican) and Nature's Table (salad bar).
In 2017, Guest Services plans to roll out an enhanced nutritional program led by Corporate Nutritionist Judy Caplan, who previously served as founding director of nutrition services at Canyon Ranch Resort & Spa and has also been a media spokesperson for the Academy of Nutrition and Dietetics.