Property Spotlight | Jazz in the Garden 2023
August 17, 2023 | Uncategorized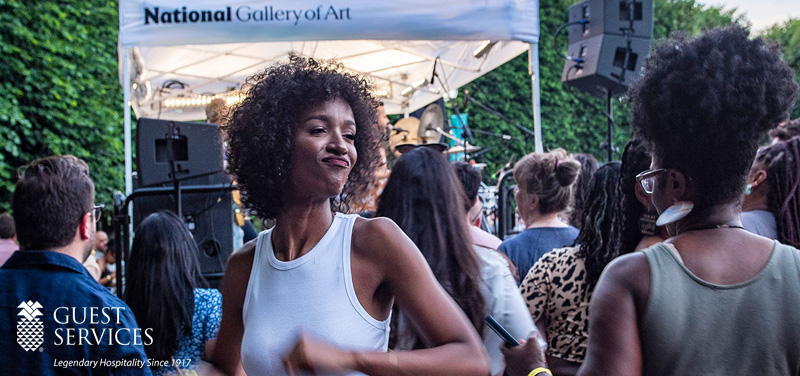 After another successful year for our Jazz in the Garden season, we'd like to highlight some of the changes and successes experienced in 2023 and extend our appreciation to the Sculpture Garden team. Thank you for another great summer!
What is the Jazz in the Garden Event?
The National Gallery of Art hosts an annual concert series named "Jazz in the Garden" that brings a blend of musical genres to the Guest Services-operated Sculpture Garden every Friday for a few summer months (this year, it spanned from May 19 through August 4). The 2023 series encompassed styles ranging from blues to Latin fusion, zydeco to bluegrass, and everything in between.
Melanie Jones, District Manager, discusses the crowd-pleasing primary product we offer: sangria. "We feature two sangria stations that are a massive hit and have been for years. Parviz, General Manager at Sculpture Garden, is the 'sangria genius' and oversees the treat's production. The process starts on Tuesday when the sangria starts to be brewed in time for the Friday event date each week. Their process has been refined over the years and now includes contingency plans for canceled dates as well as backup inventory for events with especially thirsty attendees."
What Was Different This Year?
While admission remains free, the National Gallery shifted to a lottery-based ticketing system that was successfully implemented to manage the typically overwhelming crowds. Guests could apply for up to four passes per concert, with each event's lottery opening the preceding Monday. A limited number of passes were also available at the entrance gates on the day of each show, offered on a first-come, first-served basis.
"This was also the first year an ID-checking machine was introduced that ensured both the safety of our patrons and compliance with alcohol regulations," says Melanie Jones, District Manager.
Thank you, Sculpture Garden Team!
What remained the same this year, however, was the Sculpture Garden team members and managers who did an outstanding job stepping up to challenges like weather complications and capacity restrictions. "The staff is amazing. Many of our team members have worked at Jazz in the Garden for 15 years. They know what to do, they know how to do it, and they do an excellent job," says Melanie.
What's Next?
As we enter the fall and winter seasons, Sculpture Garden will introduce a fall menu, open its famous ice skating rink, and expand its ice skating school's services to include additional days and 1-on-1 sessions. An opening reception welcoming influencers will be hosted the week before Thanksgiving to welcome the ice skating season. Stay tuned for more updates from this incredible Washington, DC location!