Property Spotlight | Mount Rainier Guest Services
June 14, 2023 | Property Spotlights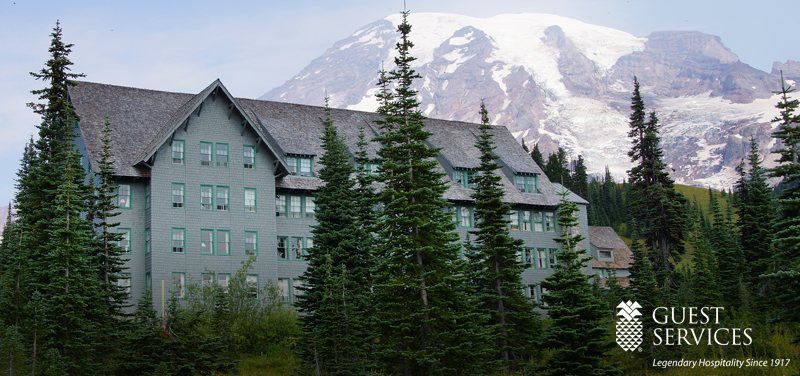 If you've been a Guest Services team member at any point in the last half a century, you've almost certainly heard of our operations at Mount Rainier National Park. It is one of our most cherished parks and has been since we began operating it in 1973. Here, we offer services at four different locations that we wanted to shed more light on and bring a better understanding of what our team does at Mount Rainier.
Nestled on the southern slopes of Mount Rainier, Paradise Inn sits at an elevation of 5,400 feet, treating visitors to breathtaking vistas of vibrant wildflower meadows. Construction commenced in 1916, and on July 1st, 1917, it unveiled its doors, offering 37 guest rooms to the beautiful park's visitors. Today, Paradise Inn stands with 121 rooms, a 50-table dining room, a charming gift shop, a delightful cafe, and a lobby of renowned architecture.
The Jackson Visitor Center food service and retail operation is just across the parking lot from Paradise Inn and, just like Paradise Inn, operates seasonally.
The Sunrise Lodge is located in the northeast corner of the park at the 6400-foot level, where it sits as Mount Rainier's highest visitor center. Yet to open for the season because of the snow, it will open on July 1st, 2023. It is seasonally accessible from early July through late September. Visitors are astounded by spectacular views of the massive Emmons Glacier and meadows of colorful wildflowers.
The National Park Inn is a little gem that is nestled in the Longmire Area at the 2800-foot level. It features 25 guest rooms where visitors can stay and enjoy the spectacular views of the surrounding area. The inn also includes a 90-seat dining room, a guest lounge, and a country store on-site for any necessary supplies or souvenirs. The National Park Inn is open year-round, allowing visitors to experience the beauty of Mount Rainier in all seasons.
We also have employee housing and our main office complex about 5 miles outside of the park, where administrative tasks are maintained.
"All of our buildings are located in historic areas in the park. Each building is a treasure for us to take care of," says Melinda Simpson, Director of Operations for Mount Rainier Guest Services. She started with Guest Services in 1973 and has worked with the company on and off since then. Hear her share more about her story below.
A Momentous Year for Paradise Inn
Believe it or not, we are still seeing the ramifications of COVID-19. Over the past few years, we have been working through restrictions and doing everything we can to serve both our team members and park visitors safely while meeting guidelines and operating with a limited staff.
This year, we are ecstatic to return to the level of pre-COVID operations.
Sustainability
In addition to the reintroduction of a fully staffed team and services we had previously been restricted from offering, we look forward to bringing many sustainable practices back. Composting, bulk amenities, reusable dishware, and many other day-to-day operating functions will be once again made Earth-friendly.
"We look at new sustainability opportunities every day. Being in a National Park means something special; sustainability is always top of mind. It also means that all efforts must be within the National Park Service guidelines," says Melinda.
Revitalizing Mount Rainier Dining
In 2021, most of our food was to-go because of the pandemic, and since then, things have been challenging for food services at our properties here. Chef Nick Ryan started around this same time and, since then, has been preparing for our return to full-service dining. Not only is he leading the charge to turn our dining back to the upscale dining and exceptional service it once was, but he is also working to revitalize employee dining.
In our interview, Chef Nick said, "We are working with local vendors and farms to bring a farm-to-table, local experience in our restaurants. We work with Fray Farms, Caffe D Arte, Northwest Fish, and Northern Wild to bring our guests closer to the environment they are visiting. We are excited about how we can bring fresh, modern, and delicious cuisine to our guests and employees while staying true to our historic roots."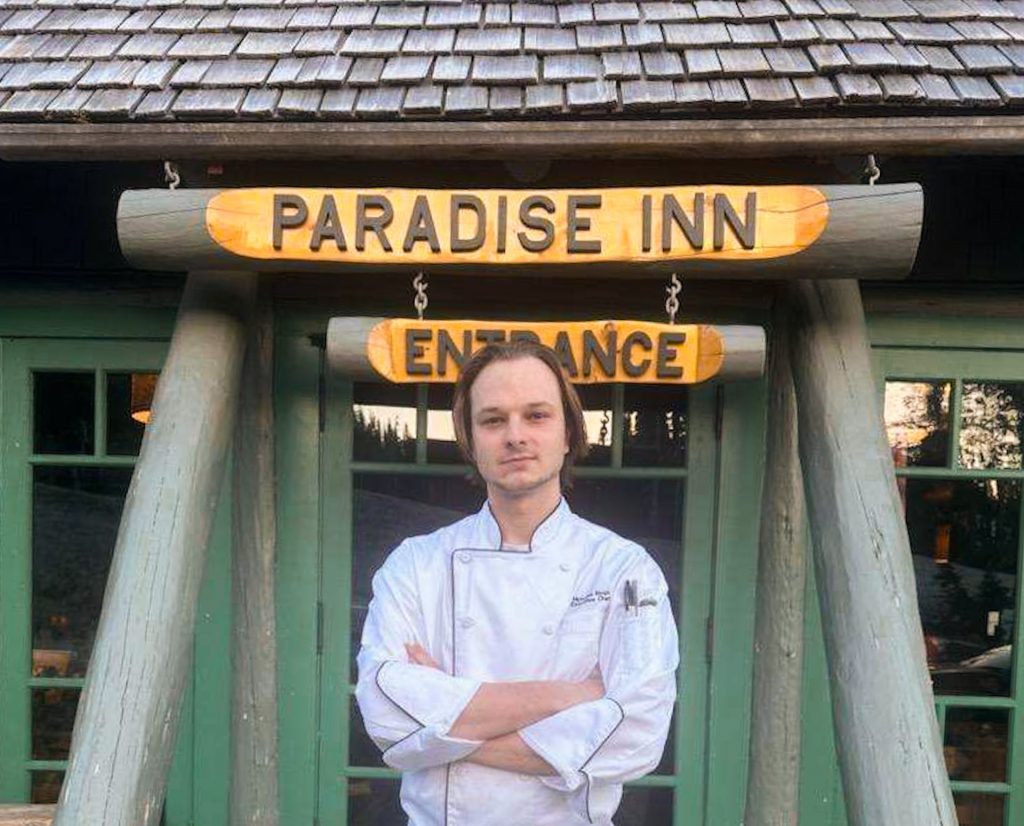 Both Melinda and Brandy Frederich, Senior Director of West Coast Operations, expressed their optimism about what the future holds for Mount Rainier dining. Brandy said, "Chef Ryan's creativity, calm presence, and adaptability in the face of an ever-changing environment these past couple of years have set him apart. From unpredictable weather conditions to power outages and unexpected closures, he fluidly adapts and ensures that our guests are well taken care of," says Brandy Frederich, Senior Director of Operations, Hospitality.
Guest Services is grateful for the opportunity to continue serving the fantastic visitors and guests of Mount Rainier National Park. Melinda said, "This is a wonderful place. We are so fortunate and blessed to work in a place like Mount Rainier National Park and to represent our company with the National Park Service and visitors. I'm thrilled to be in this job and to work with the people I work with!"
Thank you to the entire Mount Rainier Guest Services team for your hard work, and we look forward to an excellent year!