Property Spotlight | Rainbow Springs Adventures
July 13, 2023 | Property Spotlights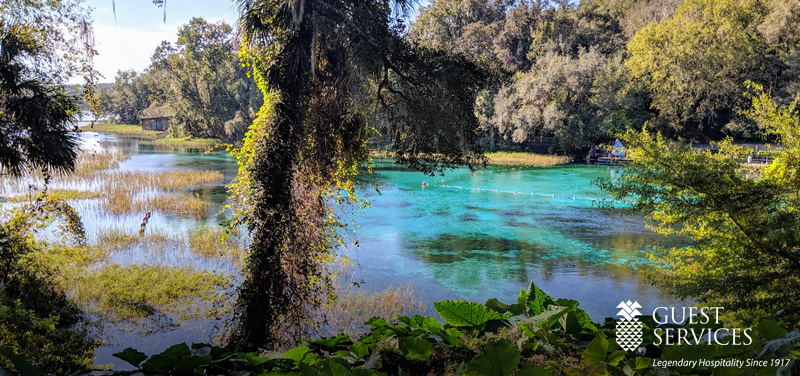 Property Spotlight | Rainbow Springs Adventures
Rainbow Springs State Park is a sprawling 1,472-acre park in Florida, encompassing one of the state's largest springs, the headsprings of the Rainbow River, and offering a diverse range of outdoor activities like swimming, kayaking, tubing, canoeing, and camping. "We're on the head springs and the river itself, which both consist of micro springs that enable the water to be crystal clear and 72 degrees year-round. You can also see the bottom everywhere. People love it," says Rich Lucy, General Manager.
Here, Rich and his team operate the newly upgraded cafe, camp store, tubing station, boating, kayaking, paddle boarding, and canoeing. In 2023, the team opened earlier in the season than normal with record-breaking numbers, introduced a newly upgraded cafe with an overhauled menu, and continue to explore innovative new service offerings.
"The numbers speak for themselves. This year, we had 41% higher revenue year-over-year. We're also 26% over our budgeted revenue. Rich and his team have brought a number of incredible upgrades that have shown the true potential of the park. Beyond these impressive numbers, the park has really evolved into an extraordinary space where families are making lifelong memories," says Laura Sherman, Vice President, Hospitality.
Matt Smith, District Manager, says, "Rich's F&B sales are up double digits most days, and the food is great. He's also brought in a new line of retail merch this year, increased rental revenues, and turned the Tube Rental area into a one-stop concession store catering to all of our guest's needs. Rich has been a great addition to our team."
"I think the best way to describe Rich is that he is a 'get-it-done' kind of guy. He adds immeasurable value to the operation. His food & beverage experience has elevated the food concession offerings to a whole new level."
These achievements aren't going unnoticed either. The park has recently been featured in several local news articles:
What's Next?
"Right now, we're really excited about bringing the original glass bottom boats. You actually walk down into these boats, so you're literally in the water. We're currently working on getting these approved so we can renovate them."
"We also have been given some land on the campsite to open up Eco-tents to capitalize on the growing glamping trends. So, we're pretty excited. We're still adding new things and a lot of things people really enjoy, and we're giving them more reasons than ever to come and visit us," says Rich.
Thank you to the entire Rainbow Springs Adventures team for your hard work!