Eveleth, MN: A contract has been finalized under which Guest Services, Inc., in partnership with Billy Casper Golf, will manage all Giants Ridge operations, Iron Range Resources and Rehabilitation Board (IRRRB) Commissioner Mark Phillips announced today.
Effective May 1, 2017, Guest Services, Inc. and Billy Casper Golf will oversee all Giants Ridge operations, including golf, ski, rental, retail, concessions, and facilities.
Giants Ridge in Biwabik includes two 18-hole championship golf courses, hiking trails, award winning bike trails, alpine and nordic ski operations, wedding, banquet and conference facilities. More than 100,000 visitors enjoy the many offerings at Giants Ridge each year.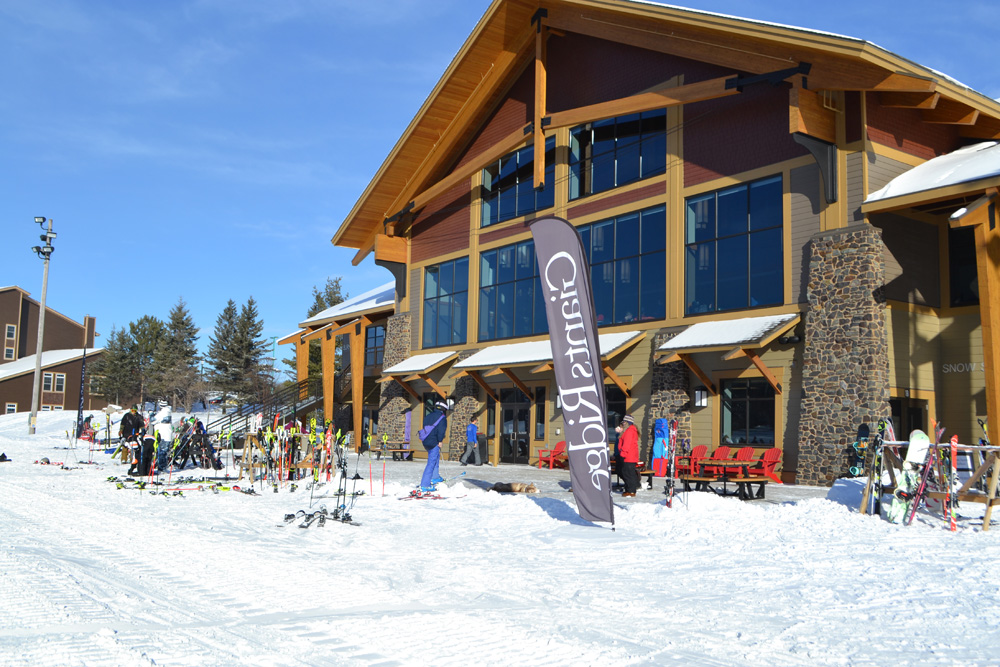 Existing contracts with multiple vendors for golf, ski, rental, retail, food and beverage, and other operations, expire April 30, 2017.
During the month of April, a transition will occur from the current multi-vendor operational model to the new model. The transition comes following 18 months of studies involving numerous stakeholder groups about ways to make Giants Ridge more efficient and more successful.
IRRRB will continue to own all Giants Ridge physical assets and property.
"Giants Ridge is the crown jewel of the Iron Range. This is an operating model and partnership that provides Giants Ridge with new opportunities to grow and attract more visitors and investment," said Phillips. "Guest Services has an excellent track record of delivering the top level of customer experience. IRRRB will continue to own and invest in Giants Ridge to ensure it remains a premier destination and a key contributor to the region's economy."
For each dollar invested in Giants Ridge, 1.6 dollars goes back to the local economy, creating a more than $43 million multiplier economic impact, according to a 2016 Giants Ridge Economic Impact Analysis performed by THK Associates Inc., of Aurora, Colo. Giants Ridge employs more than 150.
"We are proud to officially launch our new partnership with IRRRB, and we look forward to delivering spectacular visitor services and experiences at Minnesota's #1 Family Vacation Destination – Giants Ridge," said Scott Shepherd, Chief Commercial Officer at Guest Services, Inc.  "Our very unique corporate culture and our Recreation Area first operating mentality perfectly situate our firm to commit the most to the iconic properties we're privileged and honored to steward.  It's also very important to our firm to provide meaningful local jobs that offer great benefits."
"Billy Casper Golf was built through golf innovation, superior customer service, and unparalleled industry expertise," said Mike Cutler, Senior Vice President of Billy Casper Golf. "We look forward to our partnership with Guest Services, Inc., and delivering the ultimate customer experience to Giants Ridge visitors."
The new www.GiantsRidgeCareers.com website will debut this week to effectively communicate transition updates, list available employment opportunities and details for how to apply.  Representatives from Guest Services, Inc. and Billy Casper Golf will also be on site this week to meet current employees, begin the employment transition process, as well as conduct a career fair for any remaining (available) positions.
About Guest Services, Inc.
For over a century, Guest Services, Inc. has earned the reputation as a premier hospitality management company and national and state park concessioner that has taken great care and pride in delivering best-in-class food, lodging, retail and recreation services. The Fairfax, Virginia-based company and its subsidiaries employ over 4,000 valued team members at more than 300 properties, which welcome approximately 35 million guests annually across the United States. Guest Services, Inc. is proud to welcome guests at the award-winning DoubleTree Suites by Hilton Naples, The Lodge at Breckenridge, Mount Rainier National Park, the National Mall in Washington, D.C., and, iconic state park lodges such as the Bear Mountain Inn in New York, Big Sur Lodge in California and Echo Bluff State Park Lodge – Missouri's newest state park in the Ozarks.  To learn more visit www.guestservices.com.
About Billy Casper Golf
Billy Casper Golf is one of the largest privately owned golf course management companies in the U.S., with nearly 150 properties in 29 states.  Headquartered in Reston, Va. – with regional offices across America – BCG has more than 25 years of results-driven expertise.  The company specializes in full-service course management as well as assistance in specific segments of the golf business, including course and property maintenance, staffing and training, career growth, clubhouse operations, food and beverage, merchandising, golf instruction, marketing and public relations, special events and financial management. To learn more visit www.billycaspergolf.com.
IRRRB is a state economic development agency headquartered in northeastern Minnesota whose mission is to promote and invest in business, community and workforce development for the betterment of northeastern Minnesota. To learn more about the agency and its services, visit http://mn.gov/irrrb/. Follow us on Twitter at https://twitter.com/IRRRB.
For more information, please contact:
Sheryl Kochevar
Communications Coordinator, IRRRB
218-735-3021
Sheryl.Kochevar@state.mn.us
Contact Information for Guest Services:
Liz Gerber Morris, Director of Sales & Marketing
239-593-3339
morrisL@guestservices.com