Holladay Properties and Guest Services, Inc. Formally Launch New Partnership
ASHLAND, Va., March 21, 2017 /PRNewswire/ — The 103-room Fairfield Inn & Suites by Marriott Richmond Ashland (Virginia) celebrated its opening today. Located only 15 minutes from downtown Richmond, and 23 miles from Richmond International Airport, the Fairfield Inn & Suites Richmond Ashland will offer guests convenient access to Richmond International Raceway, James River Cellars Winery, Hanover County Airpark, Harley Davidson, and Bass Pro Shop. The Fairfield Inn & Suites Richmond Ashland (11625 Lakeridge Parkway) will operate as a Marriott franchise, jointly owned by Holladay Properties of South Bend, Indiana and Guest Services, Inc. of Fairfax, Virginia. Guest Services will also manage and operate the property.
"Delivering both function and comfort, our new design and décor elevate the Fairfield brand, setting a new standard in the moderate tier category," said Shruti Buckley, vice president and global brand manager, Fairfield Inn & Suites by Marriott. "At Fairfield Inn & Suites, we provide an easy, positive and productive travel experience, as well as the promise of consistent and reliable service at an exceptional value. The Fairfield Inn & Suites Richmond Ashland is a truly stunning example of the brand's contemporary look and feel, and we are pleased to introduce Fairfield Inn & Suites hotels in the Ashland area."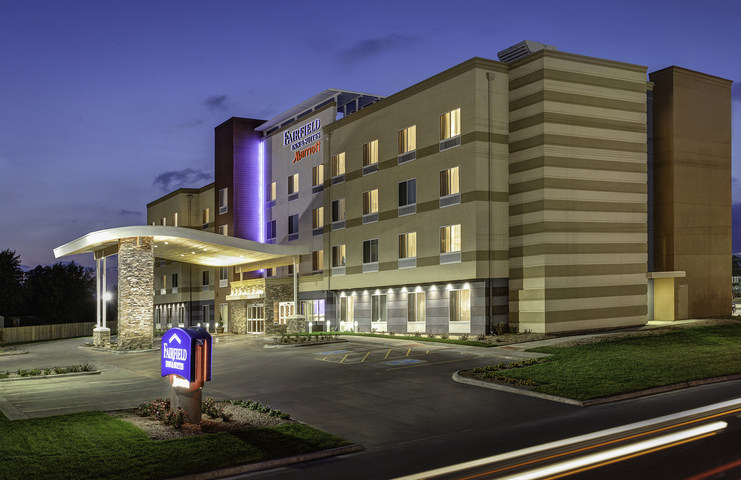 "We are truly pleased with the progress and continued development in and around Winding Brook. Today's opening of the Fairfield Inn & Suites Richmond Ashland is another shining example of our commitment to this wonderful community, and the great state of Virginia. We will be proud to serve our valued guests via this flexible, functional and accommodating property in partnership with Guest Services for many years to come," stated John Phair, CEO of Holladay Properties. "The thoughtful design of the hotel draws inspiration from nature to create a hotel environment with a modern, bright new design that has been a very rewarding process for the team to bring to fruition through the planning, construction and now opening."
"As a business headquartered in the Commonwealth of Virginia, and celebrating our Centennial in 2017, we couldn't be more excited about the opportunity to open this amazing new property with our valued and trusted partner, Holladay Properties," commented Gerry Gabrys, CEO of Guest Services, Inc. "Expanding our award-winning hotel portfolio with a property in the Commonwealth was an easy decision because of the Fairfield brand's heritage of great service and warm welcomes, which is congruent with Guest Services' heritage and culture. As with many of our other spectacular hotel properties, we have embraced the opportunity to connect the indoor spaces of the hotel with the outdoors, and have established a property surrounded by natural beauty. Our team of talented hospitality professionals embodies the southern charm of the Richmond area, and we greatly look forward to warmly welcoming guests to our property."
Hotel amenities include an inviting living area in the lobby, signature "smart" room décor, a 24/7 Corner Market, an indoor swimming pool, an exercise room, lobby bar, valet laundry service, complimentary Wi-Fi, as well as fax and copy services. The hotel also offers 750 square feet of space to accommodate functions for up to 50 people.
Fairfield Inn & Suites by Marriott is designed for today's traveler who is looking to be productive on the road, whether for business or leisure. In addition to complimentary Wi-Fi and hot breakfast, Fairfield Inn & Suites offers thoughtfully designed rooms and suites that provide separate living, working and sleeping areas. With more than 850 properties throughout the world, Fairfield Inn & Suites hotels participate in the award-winning Marriott Rewards® frequent travel program that allows members to earn hotel points or airline miles for every dollar spent during each stay. For more information or reservations, contact the Fairfield Inn & Suites Richmond Ashland hotel directly at 804-412-4800, call the Fairfield Inn & Suites toll-free number at 800-228-2800, visit www.fairfieldinn.com, become a fan at www.facebook.com/fairfieldinnandsuites or follow Fairfield at www.twitter.com/fairfieldhotels.
Holladay Properties is a full-scale land development, design/build and fully-integrated real estate company, as well as one of the largest medical office management firms in the country. With more than 200 employees in a range of specialties working throughout the United States, Holladay Properties under the leadership of CEO John Phair, has the knowledge and experience to complete any type of project for any kind of client. For more information regarding their services and capabilities visit www.holladayproperties.com.
For over a century, Guest Services, Inc. has earned the reputation as a premier hospitality management company and national and state park concessioner that has taken great care and pride in delivering best-in-class food, lodging, retail and recreation services. The Fairfax, Virginia-based company and its subsidiaries employ over 4,000 valued team members at more than 300 properties, which welcome approximately 35 million guests annually across the United States. Guest Services, Inc. is proud to welcome guests at the award-winning DoubleTree Suites by Hilton Naples, Mount Rainier National Park, The Lodge at Breckenridge, and iconic state park lodges such as the Bear Mountain Inn in New York, Big Sur Lodge in California and Echo Bluff State Park Lodge – Missouri's newest state park in the Ozarks. To learn more visit www.guestservices.com.
###